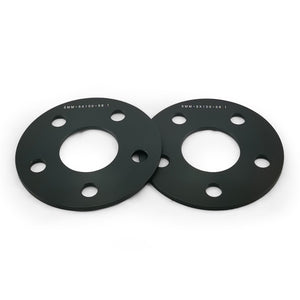 Slip-on 5mm aluminium alloy wheel spacers
CNC machined from high grade 6061 T6 aluminium alloy and finished in smooth anodized black, these slip-on wheel spacers features a hub centric fit to mount securely to your wheel hub.
Assist with wheel to fender gaps, suspension and/or big brake clearance
Often used to minimize wheel to fender gaps or ensure wheels do not foul on brakes or suspension parts, this bolt on application will increase your overall track width by 5 mm on each side.
Available in pairs (2). Please select the required size and quantity. If you require 4 spacers, please update quantity to 2 Pairs (4 pieces).
Specifications:
Material: 6061 T6 Aluminium Alloy
P.C.D./Vehicle Bolt Pattern: 5X100
Thickness: 5 mm (Millimetres)
HUB: 5H
ID/Centre Bore: 56.1

OD: 56.1
Finish: Anodized Black
Quantity: 2 (Pair)
Common Vehicle P.C.D. & Centre Bore:
HONDA | 4X100 | 56.1
BMW E21, E30, VOLKSWAGEN | 4X100 | 57.1
SUBARU | 5X100 | 56.1
SUBARU | 5X114.3 | 56.1
TOYOTA | 5X114.3 | 60.1
NISSAN | 5X114.3 | 66.1
MAZDA | MITSUBISHI | 5X114.3 | 67.1
If you are unsure or have any queries, you can contact us or refer to our wheel fitment guide. The information provided serves as a general guide. Images used are for reference only and is affected by the selected size. You should verify your wheel size, stud pattern (p.c.d.), wheel nut thread pitch, and/or centre bore of your specific vehicle, as it may differ within vehicle makes. All wheels and wheel accessories should be installed professionally by qualified individual or shop for safe vehicle operation.