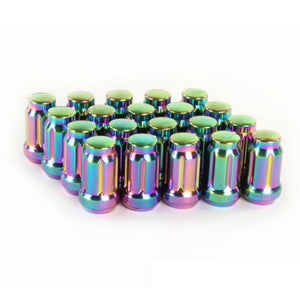 These wheel nuts are made from legal grade steel and features a slim fit design with a 60 degree taper seat to suit most alloy wheels. Each kit comes with spline drive fitting tool for installation. Available in various other colours and thread pitch, please select the required size and quantity. 
Material: Cold Forged Steel
Finish: Anodized Neon Chrome
Overall Length: 34MM
Thread Pitch: M12X1.25 | M12X1.5
Spline Drive key/Socket Size: 19MM or 21MM hex
Spline Drive key/Socket Outer Diameter: 20.5MM
Available Quantities:
- 16 PCS + Key
- 20 PCS + Key
- 24 PCS + Key
- 4 PCS (Without Key)
Common Applications:
M12X1.25 - Nissan | Suzuki | Subaru
M12X1.5 - Honda | Mazda | Toyota | Mitsubishi | Holden | Ford | Kia | Hyundai | Daihatsu
*Only compatible with wheels with a 60 degree taper seat. Wheels with flat seat or ball seat type will not fit. Always refer to your vehicle owner's manual for correct thread pitch and proper torque specification.
If you are unsure or have any queries, you can contact us or refer to our fitment guide. The information provided serves as a general guide. Images used are for reference only and is affected by the selected size. You should verify your wheel size, stud pattern(p.c.d.), wheel nut thread pitch, and/or centre bore of your specific vehicle, as it may differ within vehicle makes. All wheels and wheel accessories should be installed professionally by a qualified individual or shop for safe vehicle operation.